EXPERIENCE
Mambeadero CEREMONY –
The origin story
"In order for the mother to survive, we need to unite and remember we are all guardians and practice how to do this"
– Mamo Fransisco
TIME
11:00 – 17:00 hr
Individual healing sessions
17:00 – 19:00 hr Dinner
19:00 – 22:00 hr
Ceremony
EXCHANGE
€111 – Individual healing session
€44 – Ceremony
€11  – Dinner
MAMBEADERO CEREMONY – The origin story
Our favourite Wiwa teacher is back! Mamo Fransisco is going to honour us with one last visit before he travels back to Colombia. 
During the last Mambeadero ceremony end August, when he was asked about the origins of the world, Mamo Fransisco explained that it would take an entire session or even a few days to share the must fundamental elements of our genesis story. 
During this session the Mamo will share his insights about the origins of mankind, the world and Universe with us. These mysteries and hidden knowledges have been guarded by the elders and Mamos (spiritual leaders) of the Wiwa, Kogi, Arhuaco and Kankuama tribes for centuries. 
It's a great honour that Mamo Fransisco will share these precious teachings with us. 
If you're interested in the great Mystery of Life. Please join this ceremony with us. 
More info: see below..

(Krijg je een foutmelding tijdens het aanmaken van een account? Klik dan op 'wachtwoord vergeten'. Je hebt dan ergens anders al eerder een Bsport account geopend)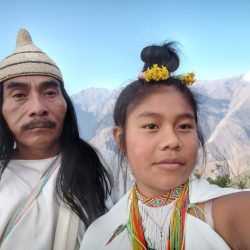 FACILITATED BY
MAMO FRANSISCO 
ABOUT MAMO FRANSISCO
He is a Father * Spiritual Guide * Teacher * Maestro * from the high mountains of the Sierra Nevada, Wiwa community (Colombia).
He is connected with Arhuacos and Kogis, other indigenous tribes, as Colibri Messenger to guide the humanity in this awakening of the new earth. He shares his wisdom how to live in harmony and balance, grow as individual, partners and community on the earth.
He illuminates other how we can balance giving and taking and clean ancestral lines so we can invite more light and Source to flow through us, so we can live our true life mission.
Mamo (spiritual title) Fransisco is a humble, most wise, sweet and firm teacher that never judges or wants to see like teacher. For him we are all teacher and student.
THE CEREMONY
In the Mambeadero we enter a circle where, through the presence of each of its participants and the art of communication, we allow ourselves to unveil a question, a question that is important to solve for this group through the inner wisdom of each one of its members.
In the circle of words we are accompanied by Coca Medicine, which helps our words to be sweet and feminine. And we are being accompanied by Tobacco Ambira, which carries the masculine energy and gives us clarity and concreteness. This medicine blend will help our words of wisdom to become "sweetly firm & firmly sweet."
This is an art practiced by the peoples of the hummingbird territory, people of coca and tobacco words. The therapeutic effects of this ceremony:
– It produces insight
– It gives clarity and meaning
– It promotes self-knowledge and recognition
WIWA TRIBE & VISION
The Wiwa tribe is one of the four main tribes of the Sierra Nevada in Colombia. The Wiwa tribe exists for thousands of years and they possess ancestral tools and high consciousness technologies.
They see themselves as the guardians of the Earth. They explain Mother Earth has a body like us; the lungs are in the jungle; the brain in Tibet and the heart in Sierra Nevada Colombia. In order for the mother to survive, we need to unite and remember we are all guardians and act upon this. Paramount for the survival of the Earth is the healing of the heart and the feminine communication within us.
PROGRAM
Mamo Fransisco will be staying at Avalon on Friday October 7 and Saturday morning. During his stay he will be sharing his wisdom through Individual Healing Sessions and a Mambeadero Ceremony.
– 11-17hr: Individual Healing Sessions (€111,- cash) (full)
– 17-19hr: Shared dinner provided by our chef Amos (€11,-)
– 19-22hr: Ceremony (€44,- incl medicine)
All the exchange fees are going directly to Mamo Fransisco for the support of his tribe and the protection of his ancestral land.
Please reserve your spot via the link below!
Cancellation policy: please be mindful reserving your spot. If you can't make it. Please let us know asap so we can invite more people from the waiting list.

(Krijg je een foutmelding tijdens het aanmaken van een account? Klik dan op 'wachtwoord vergeten'. Je hebt dan ergens anders al eerder een Bsport account geopend)