GATHERINGS
Agua Florida Workshop
"All your magic and essence in one bottle; full of colourful flowers and other healing plants"
Agua Florida Workshop
Beautiful women, you are warmly invited to create your own Agua Florida and embrace the feminine magic and beauty within. Explore and brew your own authentic essence in harmony with the vibrant colors of flowers, and connect with yourself as you bloom and open up together with the flowers.
The workshop will unfold in different phases, reflecting the cycles of life we and the flowers experience. We will pray with your intentions, embracing the power, beauty, and magnificence of womanhood, while healing any blockages that may hinder your path.
More info: see below..

(Krijg je een foutmelding tijdens het aanmaken van een account? Klik dan op 'wachtwoord vergeten'. Je hebt dan ergens anders al eerder een Bsport account geopend)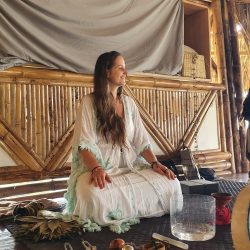 FACILITATED BY
FEE VAN EGMOND
EXCHANGE
€66 single ticket
€120 duo ticket
THE WORKSHOP
Passed down from woman to woman, the ritual of Agua Florida comes from ancient South American traditions. This flower essence or flower water is a shamanic tool used for blessings, awakening shamanic abilities, cleansing negative energy (aura, emotions, and thoughts), and providing protection.
We will also incorporate small crystals, healing woods, seeds (from both Colombia and the Netherlands), and seashells into our creations.
Upon registration, we will send you details on how to prepare yourself and what to bring.
The day will conclude with a potluck food-sharing experience, allowing us to come together and celebrate our journey.
ABOUT FEE
From the lowlands in the Netherlands and the highlands in Colombia the calling is strong to built a bridge between the ancestral world and the western world. This is a mostly challenging and at the same time beautiful mission. Realizing we can all learn from each other and awaken and expand by this connections of different communitys and cultures. In the support of building sacred houses for women and children in different territories. 
Summary of Fee's experience:
* Initiated as Zaku; Feminine Messenger and Ambassador sent by tribes of Sierra Nevada, connected with protection of territory and water. Studying for 3 years with the Mamo and Abu.
* Healer with Water, frequencies of crystal and light language. Guided by maestras Aluna and Ingrid.
* Guardian of the rite of the Sacred uterus of the Munai Ki; female spirit of the jungle guided by the Sacred Water.
* Facilitator of women's circles. Using ancient techniques to clean atmospheres, auras, places by using different methods, such as working with the Sahumador and esoteric plants to clean.
* Facilitator of ceremonies to be in transcendence; existence and experience beyond the psychic level. Specialised in the work with the energies of the archangels. 
Working with medicine of the earth 'Rapé' as taught by natives of the Muyskas. Healer with medicinal plants and flowers from Dutch and Colombian territory. Recognised member of Nutabe tribe of Colombia. Weaving the experience and knowledge from her university study Psychology.

Please reserve your spot via the link below!
Cancellation policy: please be mindful reserving your spot. If you can't make it. Please let us know asap so we can invite more people from the waiting list. 

(Krijg je een foutmelding tijdens het aanmaken van een account? Klik dan op 'wachtwoord vergeten'. Je hebt dan ergens anders al eerder een Bsport account geopend)