GATHERINGS
Burning Love
"Life isn't about finding yourself. Life is about creating yourself." – George Bernard Shaw
TIME
14:00 – 22:30 (day)
22:30 – 00:30 (fire circle) 
EXCHANGE
Normal bird: €42,50
Late bird: €46,50
Fire circle: €15
MAX # TICKETS
200 (day)
50 (night)
BURNING LOVE 2023
After a wonderful 2022 edition, this year we're going to take Burning Love to the next level!
Burning Love is a – meanwhile – traditional yearly big backyard party on the land of Avalon. Inspired by the big USA Burning Man festival, the purpose is to co-create a conscious party and celebration of life with crazy wild childs that want to play, create magic, sing, dance and connect. The day will be coloured by funky DJs, connecting moments, playful activities, refreshing drinks & soulful food 'n drinks.
So what's new?? After we traditionally burned the Heart together, we organize a firecircle under the stars. Last year's spontanious success made us realize we should do it again!
You can find more info below!

(Can't create an account? Click on 'forget password' to receive a new login password. Otherwise, please contact us via mail at welcome@ avalonconnect.nl)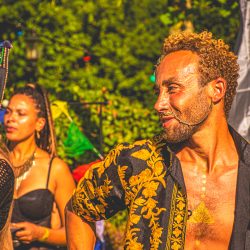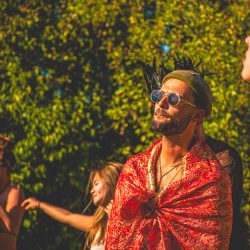 MASTERS OF CEREMONY
RUBIN PRONK
SJOERD GEERS
BURNING LOVE
Burning Love is a celebration of life. Burning Love is one big party honoring loving fire and fiery love. Our mission is to surprise you with creative art, unexpected activities, a flow of energies that goes up and down, and mostly, a safe sacred space where you are free to be yourself. 
DAY PARTY (14:00-22:30)
The day will start at 14h at the grounds of Avalon. There's an hour for everybody to walk-in and get ready for the opening ceremony at 15h, where we'll start with a big group meditation and sharing of sacred cacao. 
Through the whole day it's possible to write a note about the things you want to let go of. 
You can place this in the big wooden heart which we will traditionally burn at the end of the day. 
After the opening ceremony DJ Jarl will guide us upon a beautiful ecstatic dance journey to help us awake, open up and connect in a fun, playful and creative manner. 
During the rest of the day there are plenty of opportunities to dance, enjoy good food, explore (unexpected) activities and connect with other amazing people. 
Around 20h we offer a range of live music performances that will re-boost the energy. 
DJ Bob will conclude the evening session with funky sounds before we close off Burning Love by burning the wooden heart. 
Once the heart has burned we either hug each other goodbye or invite you to participate in the Firecircle. 
FIRECIRCLE (22:30-00:30)
Last edition we noticed that there was a lot of need to slow down the energies together before leaving back home. So, after we traditionally burned the heart to end the day-party, we will gather around the fire for a late night fire circle. 
We welcome and invite all those who want to share their arts and gifts with others (open mic).
This can be music, storytelling, sharing poems or a spontaneous co-creation of magic under the stars. 
Please bring your music instruments, some blankets and warm clothes. We keep them safe during the day! 
PROGRAM OVERVIEW
14:00: Walk-in
15:00: Opening Ceremony with Cacao (by Shaz & The Medicine Man)
16:00: Ecstatic Dance
17:00: DJ Yarl
18:00: Afromix workshop
18:45: DJ Bobby Maya
20:00: Live music (Shaz & The Medicine Man, Looping Good, Avalon Brown & Amos)
21:00: DJ Bobby Maya
22:00: Burning Love Closing Ceremony
22:30: Start Firecircle (open mic)
WHAT TO WEAR
Burning Love is about self expression. Feel free to wear whatever you want. Get as crazy if you want to get. If you look for inspiration: Google Burning Man.
FOOD 'N DRINKS
We offer organic food (vegetarian and non-vegetarian) and a variety of non-alcoholic drinks. There will be sacred cacao and 'magic chocolates' to connect on even deeper levels.
LONG STORY SHORT:
Get tickets, put on your best Burning Love outfit, bring your crazyness & smile, your own music instruments and get crazy with the tribe!

(Can't create an account? Click on 'forget password' to receive a new login password. Otherwise, please contact us via mail at welcome@ avalonconnect.nl)

FOLLOW US ON INSTAGRAM TO CHECK THE LATEST UPDATES ON BURNING LOVE 23