GATHERINGS
CONSCIOUS PARENTHOOD 
"We need to prepare (becoming) parents for the new generations of a new humanity"
– Mamo Fransisco
CONSCIOUS PARENTHOOD 
Join us for a transformative workshop on Conscious Parenthood, where we delve into the sacred journey of parenting from the ancestral wisdom of the Wiwa community in the Sierra Nevada of Santa Marta.
Conscious preparation for the new life we bring forth is an essential part of our roles as fathers and mothers. This preparation begins before conception, at the moment of conception, during pregnancy, and continues through postpartum.
Francisco and his wife, experienced traditional Wiwa midwives, have guided many families through this important process. In their community, they have the privilege of offering support and guidance during conception, birth, and postpartum for their children.
They wish to share this gift from Mother Earth with all couples who have babies, are pregnant, are preparing to bring life into the world consciously, or are having difficulties conceiving or maintaining a pregnancy.
More info: see below..

(Krijg je een foutmelding tijdens het aanmaken van een account? Klik dan op 'wachtwoord vergeten'. Je hebt dan ergens anders al eerder een Bsport account geopend)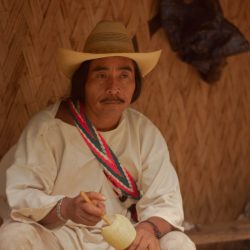 FACILITATED BY
MAMO FRANSISCO
EXCHANGE
€55 single (€15 deposit + €40 cash)
€90 couple (€15 deposit + €75 cash)
ABOUT MAMO FRANSISCO
He is a Father * Spiritual Guide * Teacher *  Maestro * from the high mountains of the Sierra Nevada, Wiwa community (Colombia).
He is connected with Arhuacos and Kogis, other indigenous tribes, as Colibri Messenger to guide the humanity in this awakening of the new earth. He shares his wisdom how to live in harmony and balance, grow as individual, partners and community on the earth.
He illuminates other how we can balance giving and taking and clean ancestral lines so we can invite more light and Source to flow through us, so we can live our true life mission.
Mamo (spiritual title) Fransisco is a humble, most wise, sweet and firm teacher that never judges or wants to see like teacher. For him we are all teacher and student.
THE GATHERING
This workshop is dedicated to the seeds of the New Humanity: children who are the true guardians of the Earth, connected with the knowledge and tools that come from the Origin and the natural laws of Nature. We hope to welcome you, (becoming) fathers and mothers, to share this Sacred space.
For those seeking personal advice and deeper family work, we highly recommend booking a private or couple session in addition to attending the workshop.
Please reserve your spot via the link below!
Cancellation policy: please be mindful reserving your spot. If you can't make it. Please let us know asap so we can invite more people from the waiting list. 

(Krijg je een foutmelding tijdens het aanmaken van een account? Klik dan op 'wachtwoord vergeten'. Je hebt dan ergens anders al eerder een Bsport account geopend)