GATHERINGS
INNER CHILD HEALING
"I'm happy to report that my inner child is still ageless"
INNER CHILD HEALING
Join us for a powerful gathering on August 19th, 2023: The "Inner Child Healing".
We are all born pure and innocent, yet, as we journey through life, our innate luminosity gradually fades, often without our realization. This dimming is caused by the many experiences and circumstances we encounter – experiences laden with pain, separation, and repressed suffering, which we mistakenly take as our reality and truth.
Over time, we start to define ourselves based on what others have said about us. Our actions echo these external opinions, leading to a life that feels heavy and contradictory. From this standpoint, we unknowingly attract those who accompany us on our journey.
Read more below…

(Krijg je een foutmelding tijdens het aanmaken van een account? Klik dan op 'wachtwoord vergeten'. Je hebt dan ergens anders al eerder een Bsport account geopend)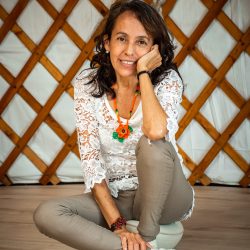 FACILITATED BY
MAESTRA INGRID RUIZ SUAREZ
EXCHANGE
€15 deposit + €40 cash (Single)
€20 deposit + €80 cash (Duo)
A TRANSFORMATIONAL WORKSHOP
Now is the time to allow ourselves the space to look at our history differently. We can't erase or alter the past as consciousness is immutable, but we can change how we perceive it, how we view it, and how it influences our present.
Our minds and consciousness are perfectly capable of change. They may have been filled with discordant experiences over the years, but they can be cleansed with forgiveness, understanding, and love.
It's time to address that beautiful child within you, the adult you've become. That child has been waiting patiently for you to replace his worn and torn clothes with vibrant colors.
You are invited to undertake this work of liberation, to create freedom in your life and your world.


ABOUT INGRID
Ingrid Ruiz Suarez is a true Maestra and founder of the Center for Healing and Inner Work Oda a la Alegría.
She works as a personal development guide and mentor; Alchemist of the awakening of the heart, creator of the methodology for the "Rebirth of the Meaning of Life", manager of spaces and materials to renew your relationship with the greatness of your being, producer of the program Oda a la Alegría in the online production: Volverensi.com.
What she does: 
– 1# Inner work sessions
Here she invites your Angels and guides to transform specific areas that you need to help you grow and develop for your greater good.
– 2# Therapy with Archangels
The possibility of consciously allowing yourself to know how the four Archangels Michael, Gabriel, Raphael and Chamuel and how their presence in your life can bring you benefits and infinite understanding and advancement in your story.   
– 3# Heart Awakening Alchemy Ceremony
This is a quantum tool that will help your release the baggage of old patterns and patterns or behaviour/attachments that you have not yet understood. This will clear the way to your conscious essence that lies in the heart.                                        
– 4# Ceremonial of raising Souls of my clans to the Light
Help your loved ones to free themselves from the patterns that do not align with their soul's purpose in this incarnation. Ingrid assists in helping people make a peaceful transition.
– 5# Naciendo a la Vida Arcoris
Retreats with personalised themes in a beautiful space of nature filled with many waterfalls and puddles Headquarters: Cocorná Colombia. Please check @OdaAlegia and @OdaAlegriaRenacer

(Krijg je een foutmelding tijdens het aanmaken van een account? Klik dan op 'wachtwoord vergeten'. Je hebt dan ergens anders al eerder een Bsport account geopend)