INDIVIDUAL HEALING
PRIVATE CONSULT
with Fee Zaku
"It is a self-reward where you will observe some moments and facets of your life in a conscious way"
– Maestra Ingrid Ruiz Suarez
PRIVATE CONSULT WITH  Fee Zaku
In the sacred lands of high mountains of Colombia I'm connecting with my own womb, my sisters wombs and different abuelas and abuelos (elders of tribes). Learning deeper wombwork in rituals and ceremonies; but the biggest teacher are the life processess that guide me, expand me. 
Curiously exploring the inner and outer waters that reflect the inner landscape. 
Inviting you to explore together what roots can be found, in the moment of your conception, gestation and birth and the ancestral pains storaged still. So you can decide from a conscious space to heal these old wounds, and you take the power back of your life, the responsibility and trust that you are here to enjoy and create heaven on earth. 
How to use your feminine magic and gifts, how to embody this sacred feminine. Stepping out of victime roles, and see that you are the creator of your own reality and life. 
What you can transform here and now? And what the divine plan comes to show you? How can you embody your own maestra. 
Connecting with the elements, and different plantteachers like tabacco and rose medicine that can guide us in our way. The animals, spirits of the territory and archangels. 
Inviting you to meet each other in a space of trust and sisterhood. We are all healing and can support each other in the circle.

(Krijg je een foutmelding tijdens het aanmaken van een account? Klik dan op 'wachtwoord vergeten'. Je hebt dan ergens anders al eerder een Bsport account geopend)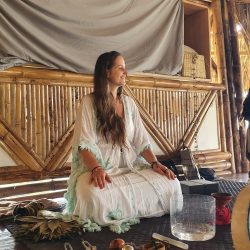 FACILITATED BY
MAMO FRANSISCO
DATE
30 June
10 July
18 July
TIME
9.30- 11.00 / 11.00- 12.30 / 13.00- 14.30 / 14:30 – 17:00
EXCHANGE
€75 (€15 deposit + €60 cash)
ABOUT FEE
Studying with different elders in Colombia and Netherlands, that help me remember my own inner maestra by life experience and healing in this way my own inner waters. 
The first teachers and guides are my children; that are received by tribal midwives in the mountains in Colombia. 
From the lowlands in the Netherlands and the highlands in Colombia the calling is strong to built a bridge between the ancestral world and the western world. This is a mostly challenging and at the same time beautiful mission. Realizing we can all learn from each other and awaken and expand by this connections of different communities and cultures. 
In the support of building sacred houses for women and children in different territories. 
Initiated as Zaku; Feminine Messenger and Ambassador sent by tribes of Sierra Nevada, connected with protection of territory and water. Studying for 3 years with the Mamo and Abu.
Healer with Water, frequencies of crystal and light language. Guided by maestras Aluna and Ingrid.
Guardian of the rite of the Sacred uterus of the Munai Ki; female spirit of the jungle guided by the Sacred Water. Facilitator of women's circles. Using ancient techniques to clean atmospheres, auras, places by using different methods, such as working with the Sahumador and esoteric plants to clean.
Facilitator of ceremonies to be in transcendence; existence and experience beyond the psychic level. Specialized in the work with the energies of the archangels. 
Working with medicine of the earth 'Rapé' taught by natives of the Muyskas. And with Water 'Kambo'. medicine. Healer with medicinal plants and flowers from Dutch and Colombian territory.
Recognized member of Nutabe tribe of Colombia.
Weaving the experience and knowledge from the study of Psychologist
Please reserve your spot via the link below!
Cancellation policy: please be mindful reserving your spot. If you can't make it. Please let us know asap so we can invite more people from the waiting list. 
A year ago I received a womb-healing from Fee. 1 on 1. This was a safe, deep journey. Fee took me along and took all the time for me. During the healing I felt taken seriously, safe, guided, grounded, calm. Fee guides lovingly, sees the pain and helps me to regain my strength (for example by breaking free from others) while staying with herself. During the healing itself I did not yet realize what the impact of this would be on me. However, it has shown a new vision for using the womb energy and everything that comes with it. More respect for the cycle, the feminine, nature, the flow of life. I'm still working with this and feel it brings me a lot in my life.
I have followed various women's ceremonies at Fee including the Munai Ki - rite of the womb, cacao ceremony, Yoni ceremony and making my own aqua di Florida. Fee creates a safe setting and a very nice atmosphere that allows you to share something of yourself with other women, which you would otherwise not dare to share with others. Thanks to Fee I dared to become more open and share personal experiences in groups. Because of this I have also become more open towards friends and acquaintances and I notice that I inspire them again to dare to be open or to go along to a women's ceremony. In particular, I have gained insights about the traumas that are stored in our wombs and I feel much more connected to my womb and Yoni. I was able to release a lot of shame and I feel more creation power in myself. It's a wonderful journey of discovery!
Twee jaar geleden zat ik midden in een burnout toen Fee op mystieke wijze in mijn leven kwam. Ik was onzeker en sceptisch toen ik aankwam maar voelde mij door Fee gezien en geliefd. Ze nam me mee in de ceromonie en begeleide me bij het licht laten schijnen op mijn vrouwenlijn. Ze bracht mij in verbinding met mijzelf, mijn lichaam en mijn kracht. Sindsdien heb ik nog aan verschillende ceremonies van Fee deelgenomen vanuit een veilige zachte bedding en heb zo mijn kennis over de natuur met mijzelf daarin uitgebreid. Ik hoop dat ik ook jou gestimuleerd heb om dit pad met jezelf aan te gaan.
Thanks to the Agua de Florida workshop with Fee I could deepen my knowledge and feeling with the plants, flowers and herbs. Also to enhance and empower my femenine side by being so thoughtful and gentle to myself through the whole process. From the beginning with the prayers , songs, and setting our intentions , during the break with a delicious vegan meal and snacks , until the end I felt loved and guarded by the energy created in the group and my sisters. Fee is a great instructor , so much loving mother energy she is and has within her. Pure and soft , yet very firm and strong but in a very gentle way. Sharing her knowledge from experience I am beyond grateful for the wisdom passed by in this workshop. I connect with my own essence and remember in my heart that beautiful experience everytime I make conscious use of my Agua de Florida.

(Krijg je een foutmelding tijdens het aanmaken van een account? Klik dan op 'wachtwoord vergeten'. Je hebt dan ergens anders al eerder een Bsport account geopend)