7 DAY PROGRAM
Mayan Cacao Immersion
"This is a journey to deepen your life experience. To discover your gifts and challenges in life and trusting in the unknown. The path that leads you to all magic in life" – Tata Walter
Mayan Cacao Immersion
Embrace the heart of cacao in this journey with Tata Walter. Learning from a true Mayan Wisdom Keeper about the Mayan roots of cacao and feeling the essence of this medicine.
This is a journey to deepen your life experience. To discover your gifts and challenges in life and trusting in the unknown. The path that leads you to all magic in life.
Tata Walter and his team of 4 cacao weavers are there to hold you in a safe container. In a space where you allow your highest potential to come alive. 
More info: see below..

(Krijg je een foutmelding tijdens het aanmaken van een account? Klik dan op 'wachtwoord vergeten'. Je hebt dan ergens anders al eerder een Bsport account geopend)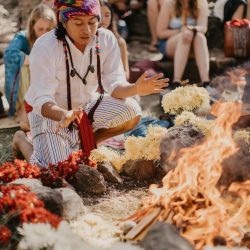 FACILITATED BY
TATA WALTER
EXCHANGE
€1520,- (20% deposit, 80% cash on arrival)

THE MAYAN COSMOVISION
The Mayan Cosmovision is at centre of this 7 day cacao immersion. Learning deeply about the Mayan culture, their astrology, numerology and spiritual connection with life. 
Discovering the mysteries of cacao and how they are interweaved with all the Mayan Wisdom that Tata Walter shares. 

PURPOSE OF THIS PROGRAM
The first intention is to learn deeply about Cacao and Mayan Cosmovision. Embodying the spirit of cacao, respecting and honouring her. The purpose of cacao is to connect; to bring harmony and open the heart.
Seeing all the opportunities, the beauty and the magic that this life gifts to us. Are you ready to dive deep into the Mayan world of cacao?
During the training you go through all the colours of life; singing, expressing, dancing, crying and laughing. Connecting with the simple things in life, while learning about a deep Ancient and ancestral practice.

MAIN SUBJECTS
Mayan Cosmovision and the Sacred Mayan book (Popol Vuj)
How to guide a cacao ceremony by Mayan Cosmovision
The 20 Nahuales (Mayan Spirits)
The Magic Meaning of the Mayan Numbers
The Story and the Essence of Cacao
Mayan Gods related to Cacao
How everything that is written above interweaves and serves in a Mayan ceremony

MAIN ACTIVITIES
Mayan water, fire and cacao ceremonies
Creating a Mayan altar
Purifying rituals with sacred Tobacco
Singing, dancing and praying for the Mayan spirits
Fasting with cacao
Ancestral practices
Preparing ceremonial cacao from scratch
Learning about your own Nahual and Mayan number
Learning about the main subjects
ABOUT TATA WALTER
As a Mayan spiritual guide he teaches people from all over the world about Mayan Cosmovision ans the essence of Cacao. Tata Walter is born and raised in the Mayan lands of Guatemala and is part of the Kaqchikel tribe.
His life is dedicated to preserve and share the Ancestral Mayan Wisdom. His life is a true ceremony, as he leads cacao & fire ceremonies almost everyday.
This deep calling to work with cacao and fire comes from his Mayan ancestors. Everyday he prays to them; giving offerings to all the elements to give thanks for this life.

EXTRA INFO
Healthy vegan or vegetarian meals 2 times a day
Let us know if you prefer to book extra for accommodation or if you will sleep at home
Please reserve your spot via the link below!
Cancellation policy: please be mindful reserving your spot. If you can't make it. Please let us know asap so we can invite more people from the waiting list. We can't guarantee a payback when you cancel 14 days prior to the start of the program.
I am deeply grateful for this experience and the people who made it possible. It's rare to find a place that not only imparts knowledge but also creates a loving community that stays with you long after it ends. The Cacao school with Walther, will undoubtedly leave a lasting imprint on my life and serve as a guiding.
For me it was really important that I'd be learning from someone born on the lands where the cacao grows. To indulge myself in to a new kind of spirituality. But foremost this course was a big remembrance, remembering that it is the simple things. Connection, singing, praying, that my soul was longing for.
I am deeply grateful for this experience and the people who made it possible. It's rare to find a place that not only imparts knowledge but also creates a loving community that stays with you long after it ends. The Cacao school with Walther, will undoubtedly leave a lasting imprint on my life and serve as a guiding

(Krijg je een foutmelding tijdens het aanmaken van een account? Klik dan op 'wachtwoord vergeten'. Je hebt dan ergens anders al eerder een Bsport account geopend)