GATHERINGS
ANCESTRAL DANCE WITH MAMO 
"Sacred dance; remembering you ARE part of nature"
– Mamo Fransisco
ANCESTRAL DANCE WITH MAMO
Join us for a unique and transformative experience as we explore the power of ancestral dance with Mamo, a spiritual leader from the Wiwa Tribe. This dance around the fire is a celebration of life, connecting with nature, and deepening our understanding of ourselves and our place in the world.
During these dance sessions, we will focus on sweetening our words, actions, and thoughts in life, transforming while blessing and thanking the path of life on earth.
Participants will be invited to set intentions, ask for clarity, and connect with their bodies and the elements of spirit and nature through dance. By dancing with the animals and plants that surround us, such as snakes, birds, and ancient trees, we will become one with Mother Earth and rediscover our origins.
More info: see below..

(Krijg je een foutmelding tijdens het aanmaken van een account? Klik dan op 'wachtwoord vergeten'. Je hebt dan ergens anders al eerder een Bsport account geopend)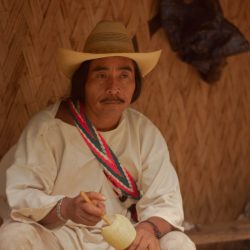 FACILITATED BY
MAMO FRANSISCO
DATE
24 June (Introduction)
8 July (Deepening)

(Krijg je een foutmelding tijdens het aanmaken van een account? Klik dan op 'wachtwoord vergeten'. Je hebt dan ergens anders al eerder een Bsport account geopend)