INDIVIDUAL HEALING
PRIVATE CONSULT WITH Maestra Ingrid Ruiz Suarez 
"It is a self-reward where you will observe some moments and facets of your life in a conscious way"
– Maestra Ingrid Ruiz Suarez
PRIVATE CONSULT WITH Maestra Ingrid Ruiz Suarez 

(Krijg je een foutmelding tijdens het aanmaken van een account? Klik dan op 'wachtwoord vergeten'. Je hebt dan ergens anders al eerder een Bsport account geopend)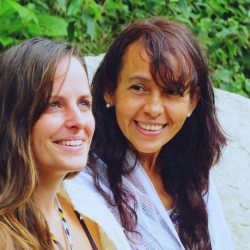 FACILITATED BY
MAMO FRANSISCO
DATE
Check the appointments calendar
TIME
9.30- 11.00 / 11.00- 12.30 / 13.00- 14.30 / 14:30 – 17:00
EXCHANGE
€150 (€30 deposit + €120 cash)
ABOUT INGRID
Ingrid Ruiz Suarez is a true Maestra and founder of the Center for Healing and Inner Work Oda a la Alegría.
She works as a personal development guide and mentor; Alchemist of the awakening of the heart, creator of the methodology for the "Rebirth of the Meaning of Life", manager of spaces and materials to renew your relationship with the greatness of your being, producer of the program Oda a la Alegría in the online production: Volverensi.com.
What she does: 
– 1# Inner work sessions
Here she invites your Angels and guides to transform specific areas that you need to help you grow and develop for your greater good.
– 2# Therapy with Archangels
The possibility of consciously allowing yourself to know how the four Archangels Michael, Gabriel, Raphael and Chamuel and how their presence in your life can bring you benefits and infinite understanding and advancement in your story.   
– 3# Heart Awakening Alchemy Ceremony
This is a quantum tool that will help your release the baggage of old patterns and patterns or behaviour/attachments that you have not yet understood. This will clear the way to your conscious essence that lies in the heart.                                        
– 4# Ceremonial of raising Souls of my clans to the Light
Help your loved ones to free themselves from the patterns that do not align with their soul's purpose in this incarnation. Ingrid assists in helping people make a peaceful transition.
– 5# Naciendo a la Vida Arcoris
Retreats with personalised themes in a beautiful space of nature filled with many waterfalls and puddles Headquarters: Cocorná Colombia. Please check @OdaAlegia and @OdaAlegriaRenacer

Please reserve your spot via the link below!
Cancellation policy: please be mindful reserving your spot. If you can't make it. Please let us know asap so we can invite more people from the waiting list. 
In these times we live in where nobody listens to anything , and if you manage to be heard it ends up being in the wrong way. When I met Ingrid I could notice the warmth, love, dedication, wisdom and personal experience, all that today is of great value , since we started talking my life has been on track, and there is always something to learn even when you think you're fine and do not need to talk , those talks always give you a plus to continue. Greetings from Uruguay and thank you very much 😊😊
I met Ingrid when I was 28 weeks pregnant, it was my second pregnancy after having lost one... It was my second pregnancy after having lost one. I went to have a Reiki session and they proposed me to meet her, that day I had come to the session with a lot of fears, worries for fear that something would happen to my baby that was on the way... I remember the first session as if it were today with Ingrid... she gave me infinite peace, we achieved a beautiful connection with my baby in the womb... and there I discovered her magic. She followed us throughout the pregnancy, we did sessions to work on different issues to heal, I achieved something that has no explanation, I could enjoy what we had wanted so much. She gave me peace, tranquility, everything I needed to continue with my pregnancy. My baby was born premature due to an increase in blood pressure (preeclampsia)... and she continued to help us during the hospitalization. And today we are grateful that she is still taking care of us, blessing us with so much love, guiding and supporting us. After going through different kinds of emotions, 4 months after my baby arrived we got something else, our own house and there she was again doing her thing... my house was like a tornado between emotions... fears and exhaustion. She cleaned my home and there again we achieved stability and tranquility reigned again. In spite of the enormous distance that separates us from almost the end of the map of Uruguay, her virtual assistance has never been noticed. We are happy to have her in our lives!
The work Ingrid has done for me and with me is almost too big for me to describe in words. In short, to me she feels as a translator and bridge builder between all kinds of dimensions. By learning to apply the personal tools yourself during sessions, the actions are now becoming more and more automatic. I am becoming more and more sensitive, which means that I very consciously and intentionally organize my life. That feels very nice, that I am the creator and know how that works. It feels like to take your full ownership of your life. Ingrid feels like family to me. The sincere involvement she shows and her indescribably big heart that can view everything from a place of love. Her humility and service is something that inspires and mirrors me to learn from. At home I call her our Angel 🤍💫 I have been working with her for a longer period of time and she knows my deepest processes. Ingrid speaks a special language that has helped me see life in a different perspective. She feels flawless to me and knows exactly how to hit the right chords at the right time. And at times beautifully confrontational. In particular, Ingrid has supported me throughout my journey to motherhood to make me feel more secure in myself. She was unconditionally present for us. The saying "It takes a village to raise a child" comes close because of the amount of spiritual support she has deployed with us. That now results in me being a happy mom with having a satisfied and happy daughter who brings her smile everywhere ❤️ The journey with Ingrid made me discover my strength and essence again. I am living my dream life more and more and experience more joy in life. Everything has become lighter and softer. I have broken free of destructive thoughts and patterns. My relationships have improved and deepened; something I've been looking for all my life. I have learned to consciously make choices in increasingly subtle layers. This makes me become more and more pure in my thoughts, words and actions. Ingrid also reminded me of my own responsibility; there are all the keys to creating your reality. And that makes it so beautiful because you can do something with it, instead of looking outside yourself and wanting to change a person or a situation. Because most of the times you can't. Through Ingrid I "know" that I am supported by something much bigger. The inner knowing and remembering that I can always connect to this gives me a lot of peace. I can also fall back on this in times of chaos. It makes me feel safe. It hasn't always been easy, but with her by my side I felt more supported than ever. Thank you Ingrid for being you 🙏🏻❤️
The personalized attention is excellent ,the accompaniment ,the warmth .Since q contact me ah provided the support I needed in my life to transform it .I appreciate and recommend totally .Greetings from Uruguay. Thank you thank you thank you 😌

(Krijg je een foutmelding tijdens het aanmaken van een account? Klik dan op 'wachtwoord vergeten'. Je hebt dan ergens anders al eerder een Bsport account geopend)